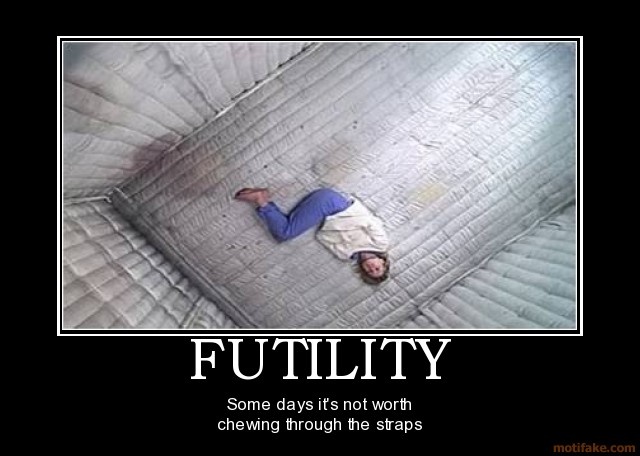 I have been thinking about the wisdom of engaging in pointless arguments. From time to time, I find myself getting spun up over what I perceive as the irrational and hateful behaviour of other people. Recently it's been people who dislike the Tea Party, or President Obama, or Ayn Rand, and so they make up or buy into ridiculous and illogical fantasies that reinforce their opinions.
I point out that the racist crap purported to be associated with the Tea Party was actually committed by saboteurs, such as Jason Levin, and that when a genuine example does surface, the racist is universally condemned. I point out that even if President Obama had been born in Kenya, that his mother was a citizen, and he is therefore a "natural born citizen". I point out that although Ayn Rand had her faults, she wasn't responsible for the subprime mortgages and the housing bubble that was at the heart of the late-2000s financial crisis. And so on.
The most immediate effect of these arguments is that other people lump me in with the target of their irrational hatred. I get accused of being a Republican. I get accused of being an Obama worshipper. I get accused of being a Randroid. I never manage to change anyone's mind. No amount of logic, no amount of evidence, is ever enough. A guy whose work I like actually unfriended me on Facebook because I didn't buy into his irrational hatred of the Tea Party.
I believe that human beings are generally good. By that, I mean that if faced with a choice between helping another person or hurting them, most people will help. However, this only holds for what people see in front of them. Once you get past what people can see with their eyes and touch with their hands, human beings are poor at telling fact from fiction, which causes them to make bad decisions, decisions based on emotion rather than fact. And hate is a strong emotion.
I am not immune. I am as emotional as anyone; perhaps more so. Irrational, too. Who am I to tell people that there is no Easter Bunny, that President Obama's birth certificate is irrelevant (because his mother was from Wichita), or that most of the people who hate President Obama would hate him just as much if his father was from Arkansas? I believe things that are every bit as ridiculous; perhaps more so.
Human beings are not wired for logic and reason. It is as unnatural to us as ice skating is to a bear. In the USA, one of the most technologically and culturally advanced societies on Earth, half of us believe in ghosts. A third believe that myths and stories that were made up in the Bronze Age are literally true. All but a tiny fraction believe that there is one or more "gods" controlling everything from elections to the weather to who wins the lottery. This is in a country that has had mandatory science education for its citizens for over a century. Just imagine what it's like in a place like Afghanistan.
Futurists have a concept they call the singularity — the point at which technological progress will have exceeded human understanding. The assumption is generally that this point lies off in the future. Personally, I think that this point occurred in the 19th century, around the time that light bulbs and pasteurization were invented. We are just too stupid to realize it.
The point being, arguing solves nothing, and does not increase my happiness nor that of those with whom I argue. So I will make an attempt to avoid such arguments in the future.