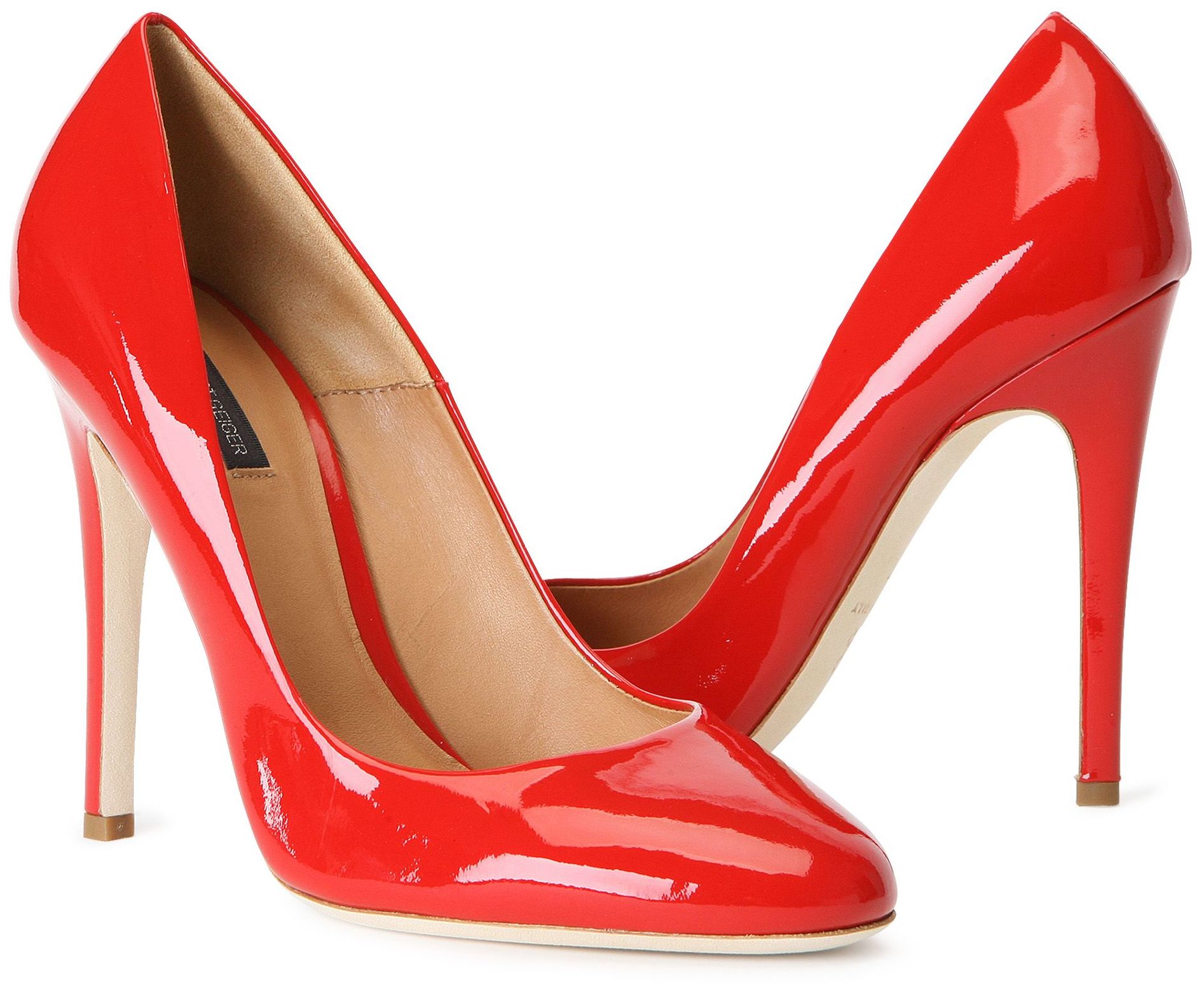 I have mixed feelings about high heels. On the one hand, I think they are ridiculous. By any reasonable standard, wearing high heeled shoes is impractical, if not outright self-destructive. I have to wonder why on earth would anyone wear anything so stupid.
One the other hand, they are sexy. It's kind of like cigarettes: I do not smoke, but it looks cool when other people do. It just does. I'd smoke , too, if it didn't kill you. And if cigarettes still cost $1.00 a pack. But I digress.
So, in an effort to ameliorate the damage that high heels do, I present this "how-to" on how to wear them without causing undue pain or injury. (This was not written by me. It was a "How-to of the day" on wikihow.) Incidentally, I do not like the thick-soled pumps that are reminiscent of the shoes worn by Frankenstein's monster. Those are just clunky and ugly, despite currently being in style. Having a club foot is not sexy (much less two of them). I do have to say that they are an improvement over the ludicrous clown shoes that were in style a few years ago.
And now… from wikiHow – The How to Manual That You Can Edit…
Stilettos are not your everyday shoe but they are definitely the shoe for parties, especially the cocktail soirée. Walking in stilettos can be a challenging experience for the novice though and it can lead lesser mortals to squeal in pain and giving up on the stilettos before they've grown used to them. Balance really matters when wearing stilettos; all of your body weight is placed onto the balls of your feet when wearing high heels, so walking well matters![1]
Fear not, gracefulness and confidence will win through, provided you're determined. All you need is a little know-how on choosing the right stiletto and walking in it "just so".

Steps
Video
This video explains how to transition from kitten heels right up to stilettos so that you feel confident in stilettos, as well as showing a clear walking demonstration in stilettos.
Tips
It is recommended by medical experts that you don't wear a heel that is higher than 3/4 of an inch or one inch (2.5cm);[18] this will allow for the maximum amount of gracefulness without falling over and injuring yourself.[19] However, stilettos can go higher than six inches (15cm), so recognize that the higher the heel, the more precarious it is to walk.
Practice a lot.
Learn how to walk in long clothing and stilettos if relevant. Long clothing, such as evening gowns and pants suits can catch on stilettos and cause accidents, or damage to the clothing, so it's important that you know how to walk in such clothes when wearing stilettos.
There are classes offered in some communities or shoe stores for walking in high heels. Have a look online or ask around. You might also ask a friend or someone who sells shoes to help you learn.
Good posture is absolutely vital for successful stiletto wearing; whatever else you do, make sure good posture is maintained at all times.
Calf muscle strengthening exercises can help you if you plan on wearing stilettos regularly.
Always break in new shoes before intending to wear them for a party, especially if you're expecting to dance and stand for hours.
Take some pain relief tablets with you in case you end up in agony by the end of the event.
Vary heel heights through the day for kinder treatment of your legs and feet.[20][21] Leave the stilettos for short stints, such as the cocktail party, and always have flats on reserve. It is also recommended that heels only ever be worn part-time.[22]
Thin liners for the ball area of the shoe are available. These provide a "cushioning" effect and will help prevent your foot from sliding forward in the shoe and getting crushed, cramping your toes.[23]
Warnings
Running in stilettos is not recommended. You could try but it's not likely to end prettily.
Never drive in stilettos or high heels of any kind. Always keep a pair of safe driving shoes in the car and change into them for driving.
High heels can damage your feet and legs if care is not taken. See your doctor if you experience pain as a result of wearing high heels. Problems that can occur include DVT (deep vein thrombosis), broken bones or fractures from falls, ball-of-foot pain (metatarsalgia), cracked skin, and unidentifiable pains.[24]
Don't try on new shoes first thing in the morning or after you've been on your feet all day. Your feet will be at their worst at these times.[25]
Not everyone can walk in stilettos. If you have tried and continue to feel nothing but pain, or you totally lack confidence that this is ever going to work for you, then don't fret. There are plenty of fantastic shoe alternatives in the world to keep you appearing just as beautiful as ever, and they don't have to be stilettos. Hand your failed pair of stilettos over to a friend who can make use of them and use this as an excuse to go out and buy a chic pair of shoes with a heel size, or even no heels, that you know you'll love walking in. It is just not worth getting into a tizzy over – if stilettos aren't working for you, they're just not worth persevering with.
Some people espouse looking gorgeous over feeling comfortable by accepting that looking good isn't always about feeling good.[26] For a big event, this is an okay attitude but don't take it to extremes and consider it's the norm for all occasions. Elevated heels can result in foot, calf, hip, and back pain.[27]
Things You'll Need
Stilettos
A safe place to practice
Related wikiHows
Sources and Citations
Article provided by wikiHow, a wiki how-to manual. Please edit this article and find author credits at the original wikiHow article on How to Walk in Stilettos. All content on wikiHow can be shared under a Creative Commons license.
Comments Off

on How to walk in stiletto heels