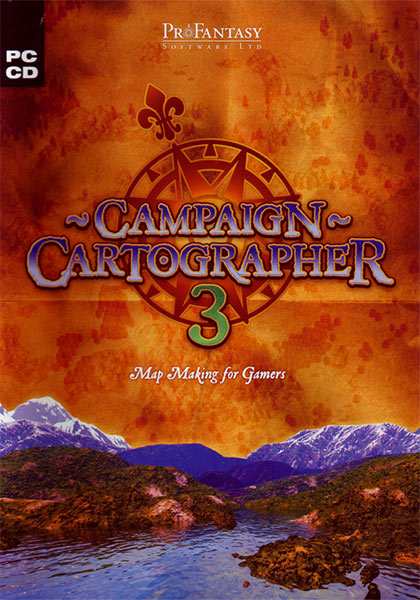 I purchased Campaign Cartographer years ago, and have purchased many of the Annuals and add-ons from ProFantasy, yet I have never made the time to actually learn to use the program. I intend to change that. This is a list of tutorials by Joe Sweeney. Unfortunately, YouTube makes it difficult to view these tutorials in order, so I have compiled this list for my own reference. This list is based on a blog post by Mike Summers.
Setting Up Your Mapping Environment
Note 1: When you install Campaign Cartographer, right click on CC3Setup.exe and choose Run as administrator (don't just use an Admin account).
Note 2: Do not install Campaign cartographer under "Program Files" or "Program Files (x86)". Doing so will make it more difficult to add or modify symbol libraries later. I suggest that you install CC3 under "C:\Profantasy\CC3\".
Part 1: Installation of CC3 and patches [2009-09-22]
Part 2: Installing DD3 [2009-09-22]
Part 3a: Installing Legacy CC2 add-ons to CC3 [2009-09-24] (superseded by Cosmographer 3)
Part 3b: Installing the CSUAC files [2009-12-17] (superseded by these instructions)
Part A: Introduction [2008-09-15]
Part B: New Maps and Creating Land [2008-11-02]
Part C: Contours [2008-11-02]
Part D: Automate Artistic Talents with Sheets [2008-11-02]
Part E: Adding Mountains with the Symbols Function [2008-11-02]
Part F: Adding Rivers [2008-11-02]
Part G: Vegetation [2008-11-02]
Part H: Rivers using Sheets and Effects [2008-11-02]
Part I: Structures using Symbols [2008-11-02]
Part J1: Text [2008-11-04]
Part J2: Text [2008-11-04]
Part K: Borders and Political Symbols [2008-11-04]
Part L: Handout Maps [2008-11-04]
Part M: Handout Maps, part 2 [2008-11-04]
Part N: Finishing Up [2008-11-04]
Part 1: The Basics [2010-04-05]
Part 2: Outputting Multiple Maps at Different Levels of Scale [2010-07-26]
Part 3: Customizing Exported Maps [2010-08-02]
Tutorial 1a: Basics [2008-11-04]
Tutorial 1b: Basics [2008-11-04]
Tutorial 1c: Basics [2008-11-04]
Tutorial 2a: Making a Battlemap [2008-12-02]
Tutorial 2b: Making a Battlemap [2008-12-02]
Tutorial 3a: Advanced Techniques [2009-01-12]
Tutorial 3b: Advanced Techniques [2009-01-13]
Tutorial 3c: Advanced Techniques [2009-01-13]
Tutorial 3d: Advanced Techniques [2010-01-31]
Mapping Dungeons, Part 1 [2013-08-18]
Mapping Dungeons, Part 2: Traps and Secret Rooms [2013-08-19]
Mapping Dungeons, Part 3: Grids [2013-08-20]
Battle Tiles
Essentials Part 1 (The New Templates) [2009-12-07]
Essentials Part 2 (Finishing Your First Room) [2009-12-07]
Essentials Part 3 (Printing) [2009-12-07]
The Crypt – Part 1 (The Entrance & Multipoly Tool) [2009-12-09]
The Crypt – Part 2 (Inner Walls & Adding Symbols) [2009-12-09]
The Crypt – Part 3 (Complex Room with Curved Alcoves) [2009-12-09]
The Crypt – Part 4 (Manually Drawing Walls) [2009-12-10]
The Crypt – Part 5 (Creating Secret Layers) [2009-12-10]
The Crypt – Part 6 (Last Two Rooms & Putting it All Together) [2009-12-10]
Raised Floors [2009-12-13]
Old School D&D Mapping
Part 1 [2013-02-15]
Part 2: Control Points [2013-02-20]
Part 3: Varicolor [2013-02-26]
Part 4: Exporting a Symbol Catalog [2013-02-27]
Part 5: Using Your New Symbols [2013-03-04]
Part 6: Creating Mapping Tools [2013-03-19]
Part 7: Create a Tool That Creates Floors and Walls [2013-03-20]
Part 8: Automating Grids [2013-04-04]
Part 1 [2010-12-26]
Part 2 [2010-12-26]
Part 1 [2011-01-15]
Part 2 [2011-01-15]
Part 3 [2011-01-16]
High-Space System Mapping Tutorial [2013-08-06]
High Space Battlemaps
Part 1: Creating A Guide Map [2012-06-19]
Part 2: Mapping the Command Deck [2012-06-19]
Part 3: Mapping The Bridge [2012-06-19]
Part 4: Printing and Outputting Maps for Play [2012-06-19]
Symbol Management
Changing the Size of Symbols [2010-03-31]
Creating custom symbol catalogs from PNG files [2012-06-01]
Attaching custom symbol catalogs to mapping buttons in Campaign Cartographer [2012-06-01]
Importing PNG files [2013-07-10]
Techniques
Aligning side view and floor plans [2013-01-26]
Understanding Layers and Sheets in Campaign Cartographer [2013-03-07]
Sheets and Effects, Part 1 [2010-12-31]
Sheets and Effects, Part 2 [2011-01-01]
Sheets and Effects, Part 3 [2011-01-12]
Sheets and Effects, Part 4 [2011-01-12]
Sheets and Effects, Part 5 [2011-01-13]
Sheets and Effects, Part 6 [2011-01-13]
Speed Mapping
Creating an Sino-Block Orbital [2013-03-06]
Treasure Map [2014-01-22]
Into the Remnant [2014-01-26]
Creating a draft Dieselpunk Star Map [2014-01-27]
Creating a Space Station Construction Symbol Library [2014-01-31]
Comments Off

on Campaign Cartographer Tutorials by Joe Sweeney