[I enjoy doing this sort of thing, and I think I have an eye for it. If I were a bit more ambitious, I would try to do it as a "side hustle".]
"Psychological warfare has a new meme for your approval, Your Majesty."
"What is this, Klytus: some new form of torture?"
"Most amusing, Your Majesty. These are a form of propaganda used on the Earth."
(Ming examines the image)
"Would you like to explain why there is a Frigian labour beast next to the exalted name of MING THE MERCILESS, or should I call for the bore worms now?"
"Of course, Your Majesty may do as he pleases in all things, and I embrace the opportunity to display my undying loyalty. But as it happens, that is the current year according to the reckoning of the people of the planet 'Earth'. The animal is a symbol of strength, ruthlessness, and nobility. It is known locally as a 'jumbo'."
"What primitive creatures these Earthlings are. And the purpose of this image?"
"Why, to grant the Earthlings hope, Your Majesty."
"Hope?"
"Hope that you will show mercy, Your Majesty."
(Ming pauses, then slowly claps, exactly three times)
(laughing) "Well done, Klytus. I look forward to reports on the psychological damage."
(chuckling) "Thank you, Your Majesty. HAIL MING!"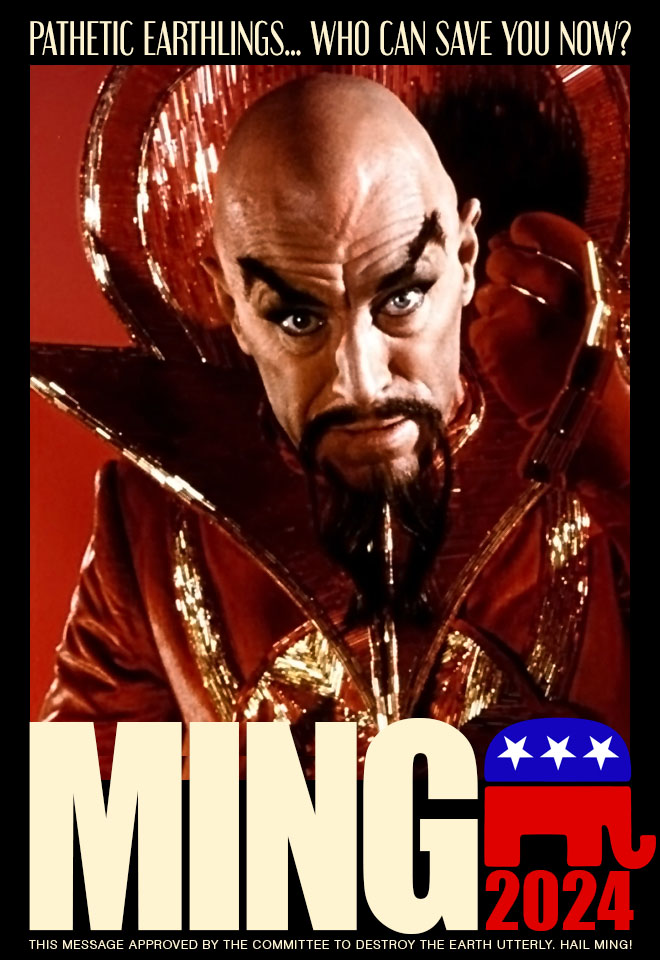 P.S.
Being an actor must be such a strange job. You wear what someone else picked out, stand where they say to stand, and say what they wrote for you to say. And yet, it is so much more difficult to do than that makes it sound (I have only had a couple of amateur performances in my past, but it was enough to learn that much).
Then (if it's film or whatever), you spend days, weeks, months, traveling from city to city just to sit and repeat the same half-dozen sentences about it for "interview" after "interview". (Do they even get paid for any of that?)
And then, when the product is complete, you bear the brunt of the blame for the end result, even though you just did what you were told to do.
And whether you even get the job in the first place is dependent on factors so far beyond your control that joining Scientology or Keith Raniere's bonkers sex cult seem like good alternatives.
Show business, man. It ain't for sissies. (I think Betty White said that, originally, but I may be mistaken.)
Comments Off

on MING 2024