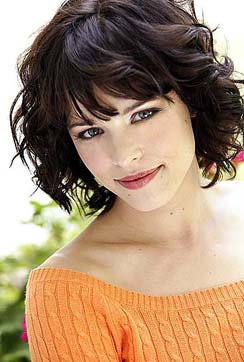 The name of the protagonist in Spider Season (the novel I am writing) is "Rain". That's not her real name, but that's a long story (the whole first chapter, actually).
I like to picture characters as actors. It helps me visualize. The actor I picture as Rain is Rachel McAdams. She has large eyes, a quick smile, an expressive face, and she seems mischievous.
I also happen to like her as an actor. I really enjoyed Red Eye. I am not sure McAdams will be the Next Big Thing (what's she done lately?), but I do think she's a talented actor and she'll have a successful career.
Here's some news about her next role:
"Rachel McAdams has signed on to star in "The Return," a bittersweet drama about three injured soldiers who come home from Iraq and learn that life has moved on without them.

Collee (McAdams), T.K. (Michael Pena) and Cheever (Tim Robbins) end up on an unexpected road trip across the U.S., with Collee on a mission to bring her boyfriend's guitar back to his family because he saved her life.

T.K., meanwhile, seeks the confidence to face his wife after a shrapnel injury that threatens his sexual function, and middle-aged Cheever plans to hit the casinos in a desperate effort to pay for his son's college tuition.

Neil Burger ("The Illusionist") will direct the independently financed project, which Lionsgate will distribute. The budget is less than $20 million.

McAdams, known for her work in "The Notebook" and "Wedding Crashers," most recently appeared in "The Family Stone."
Sounds like kind of a chick movie, but I'll go see it. I hope she's a brunette in this one. She's a natural blonde, but I think she looks better with dark hair. Rain has unkempt dark hair.
Rain is a slim, pale human girl with an athletic, almost boyish figure (64" tall, 113 pounds). Her hair is a wild black mane that falls to between her shoulderblades before being gathered into a half-dozen long, slender braids. Her features are angular and mischievous, her large eyes and wide mouth giving her a vaguely elf-like cast.
I wrote that long before I heard of Rachel McAdams, but doesn't it sound like her?
Comments Off

on Rachel McAdams as Rain