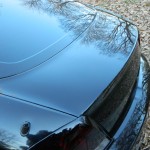 I recently got the hatch of my car fixed at Pouncey Tract Collision. They did a great job. I just wanted to start off with that, because I keep forgetting to blog about it.
This has been a great weekend. We went to a friend's Christmas party on Saturday, and then went out to dinner at Fleming's Prime Steakhouse & Wine Bar. Great food, but ludicrously overpriced. About double what we would normally pay. But it was a celebration, so what the heck. The food and service really were great.
Today we made lasagna and gingerbread cookies, and invited some good friends over to watch Christmas specials and movies. We watched Santa Claus (the crazy Mexican movie where Santa fights Satan), Elf, Santa Claus Is Coming To Town, Rudolph The Red-Nosed Reindeer, Emmet Otter's Jug Band Christmas, and How The Grinch Stole Christmas. That was great. I firmly believe that Christmas is for everyone, regardless of religion or lack thereof, and I love sharing it. As usual, we made too much food. We'll be eating lasagna for the next week. Lucky for us, we really like lasagna.
Tomorrow we go to fill out the loan paperwork for our house. Yay!
Comments Off

on Festive pre-Christmas weekend